2012 Queen of Queens Participant
"The Baddest Bitch"
Jazz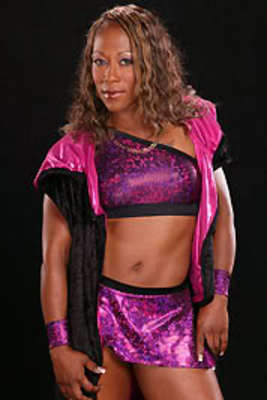 Name:

Jazz


AKA:

The Baddest Bitch


FKA:

Jazzmine



DOB:

8/27/1976



Height:

5'4"


Weight:

140 lbs



Hometown:

New Orleans, LA



Trained By:

Rod Price



Pro Debut:

1998 against Jacqueline



ACW Debut

: Will debut on June 24, 2012 in the American Joshi Queen of Queens Tournament



Signature Moves:

Jazz Stinger, Jazz Stretch, DDT, Bitch Clamp, Fisherman Buster, Running Splash, Sitout Over Shoulder Powerslam



Finishing Moves:

The Bitchlock, STF



ACW Titles:

None Yet



Other Titles Held:

WWF Women's World Title, WWE Women's World Title, WEW Women's Title, NWA Cyberspace Women's Title, DCW Louisiana State Title, WSU Tag Team Title (with Marti Belle)



Notable Feuds and Alliances:

(In her own words)
My biggest feud was with Trish in WWE. We had probably the biggest feud in the history of WWE. She was so loved by the fans & I was so hated by the fans. It was an awesome experience. It carried on to 2 WrestleMania's. This was the highlight of my career. The other was becoming the WWE Women Champion. That was something that I knew I would accomplish if I got the chance to work for that company. No one really knew exactly how hard I worked at becoming one of the most dominant women that I was in the history of WWE. I feel that today I still am and could be on top. I've had twins and right now I'm in the best shape of my career. I'm a lot more mature in mind, body & soul.
Personal History:
(In her own words)
My heart & thanks goes out to Paul E & Tommy Dreamer for giving me the opportunity to showcase my talent in ECW. That was an opportunity of a lifetime. They allowed me to be me. Which I am very thankful for. Not only was I a woman wrestling men but an African American dominating the sport. ECW is where Jazz was born and became the baddest bitch.
Also I would like to say that today wrestling has more women that are so talented & dedicated to the business. I never thought in my life that women would have the opportunities that they have today. The list can go on & on. I think that women in the business are finally getting the respect that we've always wanted. It's not all about the way you look & having all different kinds of work done to their bodies to look like Barbie dolls. Don't get me wrong you do have to be in top shape to do what we do. But I think we have made a mark too, that just because we don't look like the girls we see on TV. We shouldn't have a complex about the way we look. I just want to thank all the women for working hard and dedicating their hearts to learning the craft & showing the world that we have talent and we love the business just as much as the so called boys. Thanks to everyone that supports women wresting. Without you all there would not be such a strong women division all over the world. Much luv